Step-by-Step Guide to Building Your Own DIY Dog Bed Ramp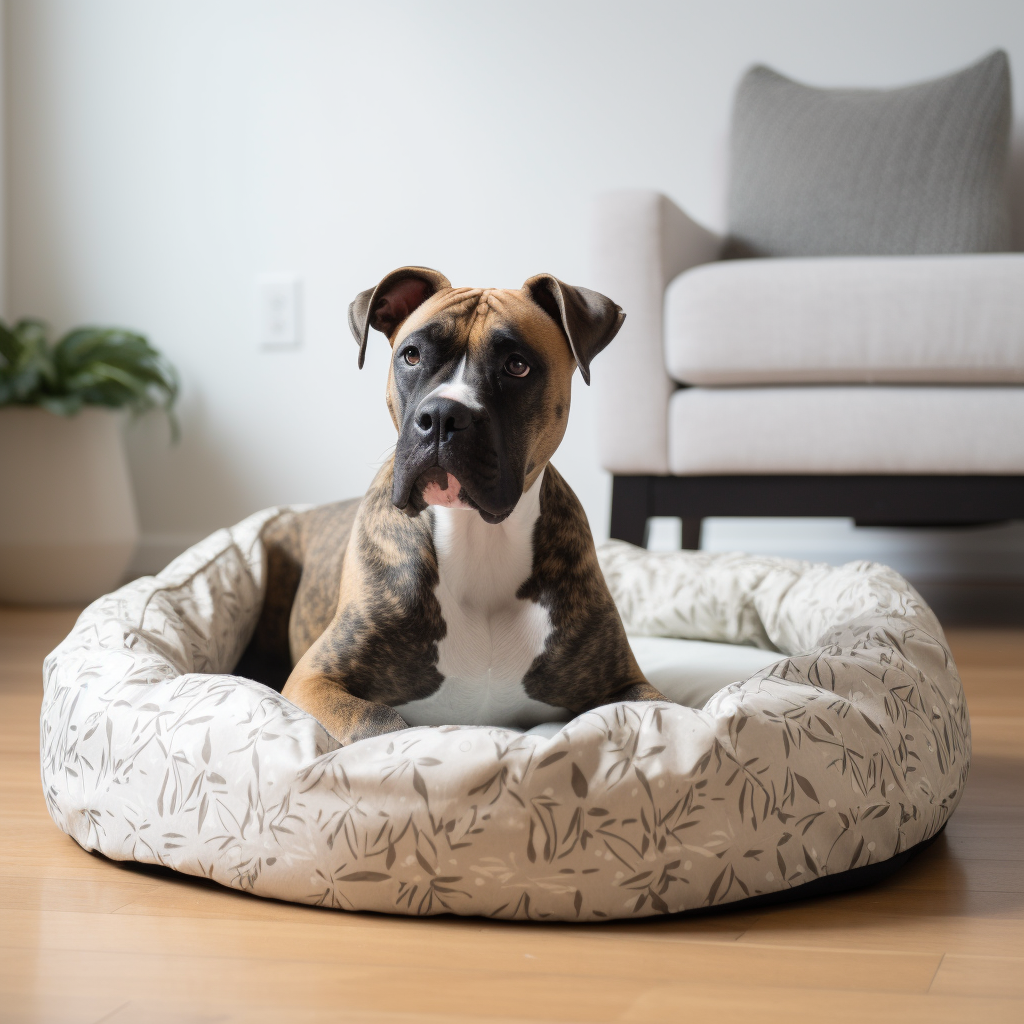 Explore the rewarding world of DIY dog bed ramps, offering personalized comfort for your pets. Learn to build functional, stylish ramps that promote canine health, save money, and boost your skills, all while contributing to environmental sustainability.
Table of Contents
Introduction to DIY Dog Bed Ramps
I invite you to explore the world of DIY dog ramp for bed, a realm brimming with opportunities for personalization, cost-effectiveness, and, above all, comfort for your four-legged pals.
Understanding DIY Dog Bed Ramps
At their core, DIY dog bed ramps are self-made projects designed to help our elderly or smaller companions. As some dogs age or due to their size, they may struggle to reach high places like the bed. A bed ramp for dogs can bridge this gap, ensuring your pet can snuggle up next to you without any difficulty.
Importance of Customizability and Personalization
Investing in a DIY project allows for a level of customization that you won't find in store-bought products. You can tailor the ramp to not only meet your dog's specific needs but also match the aesthetic of your home and the style of your bed. The dog ramp for high bed that you craft can blend seamlessly into your home decor, becoming an integral part of your living space rather than an out-of-place necessity.
Cost-effectiveness and Practicality
Lastly, let's talk about practicality. Despite being essential pieces of furniture for your pets, store-bought ramps can be expensive. In contrast, DIY ramps are budget-friendly alternatives that serve the same purpose while adding the satisfaction of creating something useful for your furry friend by yourself.
So join me on this journey as we delve deeper into the realms of building your own ramp, discussing the benefits they offer, how to approach the process, and answering commonly asked questions. Together, we'll create a haven of comfort and accessibility for our beloved pets.
Building Your Own Ramp: Instructions and Plans
As a meticulous researcher and an ardent advocate for canine comfort, I've journeyed through countless websites, DIY forums, and woodworking manuals to find the most reliable sources of information when it comes to designing a dog bed with stairs or developing steps for dogs to get on bed. Trust me, the internet is teeming with resources that offer detailed instructions and free plans for constructing your very own DIY dog bed ramp.
Locating Reliable Sources for Instructions
The first step is to locate these trustworthy sources. Of course, you'll want to select those which clearly explain each stage of construction, preferably with images for clarity. Additionally, look out for user reviews or comments that may provide practical insights or tips on what worked and what didn't.
Deciding on Necessary Additional Features
Next, decide on the desired features of your dog ramps for bed. Some designs focus on functionality, like adjustability for different heights or collapsibility for easy storage. Others propose more innovative elements, such as built-in storage spaces or suitability for various locations within the house. Remember, this project is not just about creating a functional piece. It's also about making a fixture that blends into your unique home decor and style.
Constructing the Dog Bed Ramp
Finally, it's time to put those plans into action! Bring out your tools and start constructing the dog bed ramp. There's plenty of room for creativity in these projects. You could incorporate smart storage solutions into the design or even match the ramp's color palette to your interior design theme.
In the end, building your own ramp isn't just about providing your furry friend with a comfortable way to climb onto their favorite sleeping spot. It's also about creating something truly bespoke and special - a labor of love that both you and your pet can enjoy. The satisfaction of seeing them use (and love) their new ramp will make all your hard work worthwhile.
Benefits and Impact of DIY Dog Bed Ramps
As a dedicated pet parent, I recognize the value in enhancing my dog's wellbeing. By crafting a DIY dog bed ramp, I am not just creating a functional furniture piece, but also contributing positively to their health.
Health Benefits for Dogs
These ramps are more than a mere convenience. They actively help in decreasing strain on our dogs' joints, promoting their overall health and well-being. Especially for older dogs or smaller breeds, this can make all the difference between an easy climb into bed and a struggle that could potentially cause injury.
Environmental Impact of DIY Approach
In addition to the obvious perks for our pets, choosing to go DIY has an environmental advantage as well. By using recycled or upcycled materials for these projects, we reduce waste and demand for new resources. This small gesture is a step towards environmental sustainability, reflecting a commitment to preserving our planet.
Skill Development through Building Process
And let's not forget about us, the builders. Constructing a dog bed ramp isn't just a weekend project; it's an opportunity to develop valuable skills like woodworking, problem-solving, and project management. It's a chance to flex our creativity while producing something tangible and useful. And believe me, nothing beats the satisfaction of seeing your furry friend happily using something you've made.
Crafting a DIY dog bed ramp isn't just a project, it's an experience - one that benefits our dogs, the environment, and ourselves. So, why not give it a try? After all, it's all for the love of our furry friends.
In the pursuit of fostering increased canine comfort, we cannot overlook an ingenious solution - the dog bed with stairs. This practical innovation combines the ease of a ramp with the compact nature of steps, offering your pet another way to conquer heights. For those concerned about space constraints, steps for dogs to get on bed is an excellent alternative that ensures accessibility without compromising on room. Equally important, building these tailored designs at home infuses them with a personal touch, making them more than just furniture, but a testament of our love and care for our four-legged friends.
DIY Dog Bed Ramp: An Inexpensive Solution
Let's talk about your furry friend's comfort and safety. As an animal science graduate and a devoted dog lover, I've spent ample time researching and experimenting with various canine comfort solutions. One cost-effective solution that I absolutely adore is the do-it-yourself DIY dog bed ramp.
Indoor and Outdoor Applications
Whether you need an indoor or outdoor solution, a DIY dog bed ramp will fill both roles splendidly. I've seen these ramps function beautifully in living rooms and bedrooms as well as on decks and patios. Remember to select suitable materials for each context; while wood stands as a sturdy choice indoors, weather-resistant alternatives are more appropriate outdoors.
A Size That Fits Every Dog
From Dachshunds to Great Danes, every dog has unique needs. A DIY large dog ramp for bed ensures accessibility for bigger breeds, whereas smaller structures will suit tinier touts. Match your ramp height to your dog's size, keeping in mind that a DIY dog ramp for a high bed might be necessary for taller furniture.
Incorporating Storage Space
The beauty of a DIY project lies in its customization potential. Consider incorporating storage space into the design. A DIY dog ramp for bed with storage not only serves as a mobility aid but also as a convenient spot to store toys, treats, or grooming supplies.
Keeping Costs Low
Contrary to popular belief, you don't have to break the bank for your pet's comfort. An inexpensive DIY dog ramp can be constructed from repurposed wood or affordable materials purchased at your local hardware store. With the right dog ramp plans, you'd be surprised at how budget-friendly this project can be.
I urge all dog parents to consider crafting their own ramps. It's a rewarding experience, offering a fantastic blend of practicality, aesthetics, and frugality. Not to mention, your furry friend will thank you for the added comfort and accessibility. Remember, their wellbeing is worth every effort you put in.
DIY Dog Bed Ramp: A Comfortable Accessory for Your Furry Friend
There's no denying the joy of seeing our dogs effortlessly access their cozy sleeping spots. That's where a DIY dog bed ramp comes into play, offering an inexpensive route to canine comfort.
Building Your Indoor/Outdoor Dog Bed Ramp
Creating a DIY dog bed ramp indoors or outdoors hinges on precise woodworking. Begin by sourcing untreated, pet-safe wood. Draft your dog ramp plans, ensuring the slope is gentle enough for your furry friend. The length should correspond to your pet's size and mobility, while the width should accommodate their gait comfortably. Don't forget to add a safety railing for extra security on the sides!
Crafting a Ramp for High Beds and Large Dogs
If you've got a high bed or a large pet, building a diy large dog ramp for bed can be a lifesaver. It's not much different from the basic ramp—just ensure it's sturdy and wide enough. To reinforce stability, use thick plywood for the base and make sure the steps are broad and shallow for easy climbing.
An Added Twist: Storage
Every pet parent knows how quickly toys, leashes, and treats can pile up. So why not create a diy dog ramp for bed with storage? Simply design hollow sections within your ramp and fit them out with pull-out drawers or lift-up lids. It's a great way to maximize space and keep your pet's essentials organized.
Building a DIY dog bed ramp doesn't just provide your beloved pet with easy access—it also enhances your home's aesthetics. Whether indoor or outdoor, high bed or low, there's always a doable and efficient solution. And remember, anything crafted with love will always appeal to your dog. Happy building!
For those who want to create an outdoor haven for their dogs, DIY dog bed ramp outdoor is a brilliant idea. These ramps can be made from weather-resistant materials, ensuring durability and longevity. Meanwhile, the DIY dog bed ramp indoor can blend seamlessly with your home decor, providing both functionality and beauty. If you're on a budget, inexpensive diy dog ramp solutions are available, making use of affordable or repurposed materials without compromising quality. This project can also incorporate clever space-saving solutions; a diy dog ramp for bed with storage offers a double function, serving both as a pet aid and a handy storage unit. For bigger breeds like Saint Bernard or Great Dane, crafting a diy large dog ramp for bed is the most suitable approach. Likewise, if your furniture is higher than the standard size, designing a diy dog ramp for high bed will ensure your pet's comfort and safety. All these projects would require clear and helpful dog ramp plans, which provide step-by-step guidance during the building process. DIY dog bed ramps encompass a sense of practicality and creativity, generating not only physical products but memorable experiences in craftsmanship.